Easy
Make wheel cleaning easy! Get your wheels completely clean with only water!
Inexpensive
Cleaning wheels has never been this easy, safe, or inexpensive.
No Chemicals
Cleans as well as using chemicals - Guaranteed or the purchase price refunded.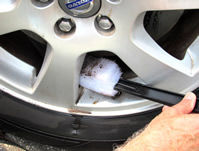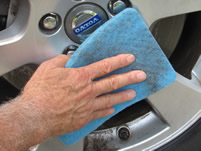 The reusable Brake Dust Eraser® Wheel Cleaning Pack contains our patented Better Than A Brush® Wheel Scrubber which allows the user to reach behind the spokes of the wheel and clean areas where the hand cannot fit, and our Brake Dust Eraser® to clean the face of the wheel, without harming your rotors, calipers, or brake pads like chemicals do!
---
While other wheel cleaning products don't even offer a guarantee, we offer a 90-day return policy so customers may use the Wheel Cleaning Pack over & over again to prove it works so well!
Reusable – lasts longer than 24 cans of chemicals saving you many, many dollars
Safe for ALL wheel surfaces – no "fine" print needed on the package
Will not "cloud" your aluminum or steel wheels like chemicals can
No clogged sprayers, no breathing harmful chemicals or getting them on your skin
Does not harm your brake disc, rotors, or calipers
Contains no chemicals or soaps